Top 10 Vegan Documentaries & Videos (2017)
A lot of vegans contribute their transition to veganism to their exposure to more information about the lifestyle, typically in the form of a documentary or speech. I would consider myself one of those vegans, so I've complied of list of the top ten vegan documentaries, short films, and YouTube videos that I would recommend you watch if you wanted to learn a bit more about vegan issues.
These videos are in no particular order. I think they are all beneficial videos to watch, but I have included a bit of information about each video so that you can choose which appeal most to you.
So without further ado, here are my suggestions!
Angle: Environmental
Synopsis: Cowspiracy: The Sustainability Secret is a groundbreaking feature-length environmental documentary following intrepid filmmaker Kip Andersen as he uncovers the most destructive industry facing the planet today – and investigates why the world's leading environmental organizations are too afraid to talk about it.
Animal agriculture is the leading cause of deforestation, water consumption and pollution, is responsible for more greenhouse gases than the transportation industry, and is a primary driver of rainforest destruction, species extinction, habitat loss, topsoil erosion, ocean "dead zones," and virtually every other environmental ill. Yet it goes on, almost entirely unchallenged.
As Andersen approaches leaders in the environmental movement, he increasingly uncovers what appears to be an intentional refusal to discuss the issue of animal agriculture, while industry whistleblowers and watchdogs warn him of the risks to his freedom and even his life if he dares to persist.
This shocking yet humorous documentary reveals the absolutely devastating environmental impact large-scale factory farming has on our planet, and offers a path to global sustainability for a growing population.
Length: 1 hr 30 mins
Where to watch: It's available on Netflix, or you can purchase it here for $5.
2. What the Health
Angle: Health, obviously.
Synopsis: What the Health follows intrepid filmmaker Kip Andersen as he uncovers the secret to preventing and even reversing chronic diseases – and investigates why the nation's leading health organizations don't want us to know about it. With heart disease and cancer the leading causes of death in America, and diabetes at an all-time high, the film reveals possibly the largest health cover-up of our time.
With the help of medical doctors, researchers, and consumer advocates, What the Health exposes the collusion and corruption in government and big business that is costing us trillions of healthcare dollars, and keeping us sick.
Join Kip as he tracks down the leading and most trusted American health nonprofits to find out why these groups are staying silent, despite a growing body of evidence. Audiences will be shocked to learn the insidious roles played by pharmaceutical companies, agribusiness, and processed animal food companies in the nation's health, especially in the most vulnerable communities, and will cheer at the transformation and recovery of those who took their lives into their own hands.
What The Health is a surprising, and at times hilarious, investigative documentary that will be an eye-opener for everyone concerned about our nation's health and how big business influences it.
Length: 1 hr 32 min
Note: While I think this documentary is worthwhile to watch, it is not free from error. Always be critical when watching documentaries! If you want to watch a good counter to the film, I recommend Unnatural Vegan's critique which you can find here.
Where to watch: It's available on Netflix, or you can purchase it here for $10.
Angle: Health
Synopsis:Forks Over Knives examines the profound claim that most, if not all, of the degenerative diseases that afflict us can be controlled, or even reversed, by rejecting our present menu of animal-based and processed foods. The major storyline in the film traces the personal journeys of a pair of pioneering yet under-appreciated researchers, Dr. T. Colin Campbell and Dr. Caldwell Esselstyn.
Their research led them to a startling conclusion: degenerative diseases like heart disease, type 2 diabetes, and even several forms of cancer, could almost always be prevented—and in many cases reversed—by adopting a whole-food, plant-based diet. Despite the profound implications of their findings, their work has remained relatively unknown to the public.
Length: 1 hr 36 mins
Where to watch: It's available on Netflix, or you can rent it for $5 here. It's also available to rent on Amazon for $4.
Angle: Mockumentary (contain some disturbing footage)
Synopsis: It's 2067, the UK is vegan, but older generations are suffering the guilt of their carnivorous past. (Simon Amstell) asks us to forgive them for the horrors of what they swallowed.
This spoof piece of black humour parody is full of surreal moments, cookery, cooking - a cooking show - and food. It features vegetarian, vegan, animal welfare and animal rights issues.
Length: 1 hr 5 mins
Where to watch: It's official available on BBC iPlayer, but this only works in the UK, so you can access it here on YouTube.
Angle: Ethical (contains disturbing language about rape)
Synopsis: "Norm" is a short film about two roommates debating over the morality of rape, in a society where raping women is legal and socially accepted. #itsnotaboutrape
Length: 13 mins
Where to watch: It's available here on YouTube. Pro tip: I would watch it once without subtitles, and then watch it AGAIN with vegan subtitles (English US) on. It will show you how simple modifications to the statements being made are exactly like what you hear today when some people converse with vegans.
6. The Most Important Speech You'll Ever Hear
Angle: Mainly Ethical (includes graphic footage)
Synopsis: Animal activist, Gary Yourofsky, gives a speech to students about why he advocates for a vegan diet. His approach is aggressive and straight-forward, so if you don't think you'd respond well to a more direct critique, I wouldn't recommend you watch this video.
Length: 1 hr 9 mins
Where to watch: It's available here on YouTube.
7. This Speech is Your WAKE UP CALL!
Angle: Ethical (Not graphic)
YouTube Description: You were lied to, so was I.
You probably love animals or at the very least, you're against animal cruelty. Yet, on the other hand, you probably pay to have animals mutilated, tortured and killed. You probably think you need meat for protein and cow's milk for calcium. You probably think animals are treated "humanely" before they become a neatly wrapped package on the supermarket shelf. You've probably never wondered what is cruel about eating eggs or dairy. You probably think vegans are extreme.
I was the same.
I want to talk to you about what we are doing to this planet, ourselves and our fellow Earthlings. I want to ask you some questions that might make you feel defensive but will also make you question things you've always considered to be 'normal'. I want to ask you to listen to this speech and hear a new perspective. Perhaps it will change your life, perhaps it won't, but I believe you deserve to know the truth. I know I'm very grateful to have learned it and now I want to share it with you. I think you'll be grateful, too.
Length: 40 mins (10 min edited version available here on YouTube.)
Where to watch: It's available here on YouTube.
8. Toward Rational, Authentic Food Choices
Angle: Psychological (includes 2 mins of mildly graphic footage)
Synopsis: Melanie Joy, the Author of Why We Love Dogs, Eat Pigs, and Wear Cows, gives a Ted Talk about carnism and the psychology of eating meat.
Melanie Joy, Ph.D., Ed.M. is a Harvard-educated psychologist, professor of psychology and sociology at the University of Massachusetts, Boston, and a noted speaker. Melanie is a recipient of the Institute of Jainology's Ahimsa Award. Her work has been featured by numerous media outlets including the BBC, Germany's ARD, ABC Australia, the New York Times and Spiegel Online. Melanie has given her carnism presentation on five continents. She is also the founder and president of the organization Beyond Carnism (formerly Carnism Awareness & Action Network) and the project Karnismus erkennen (German-speaking countries).
Length: 19 mins
Where to watch: It's available here on YouTube.
9. A 10-year old's vision for healing the planet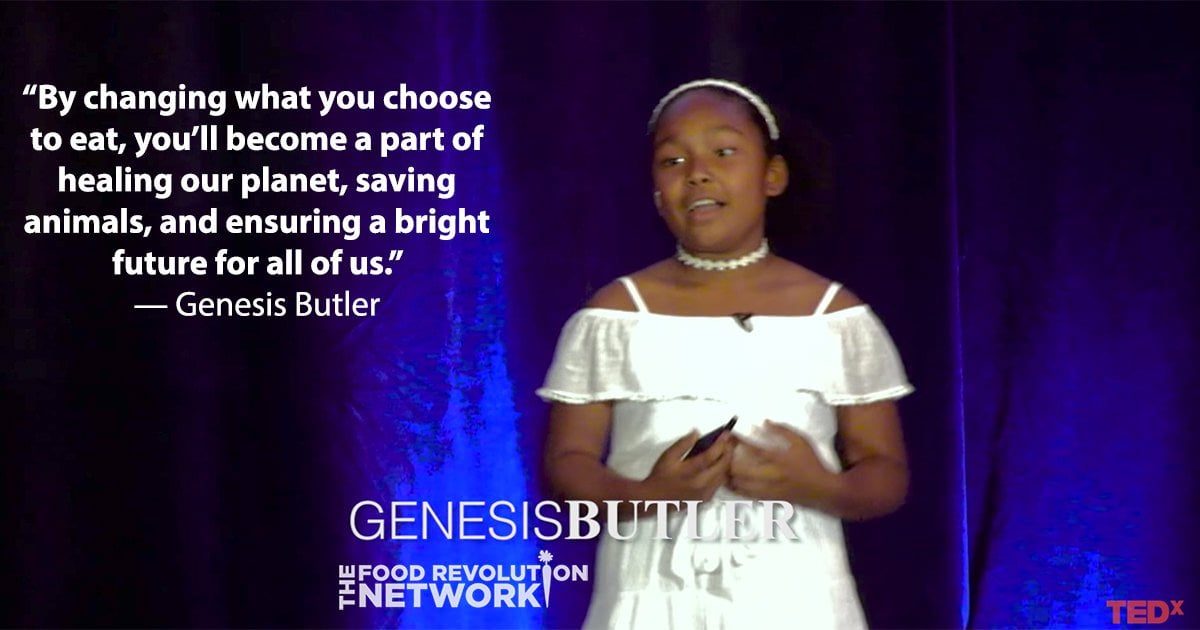 Angle: Environmental and Ethical (not graphic)
YouTube Description: 10-year old animal rights activist Genesis Butler explores the correlation between the environment and animal consumption. Through unsettling facts and humor, Genesis provides insight on how a simple choice can mean the difference between destroying or saving our planet.
Genesis Butler is a 10 year old animal rights activist and ethical vegan. Genesis has earned numerous awards for her activism including Animal Hero Kids' Sir Paul McCartney Young Veg Advocate award, Vegan Kid of the Year award from Vegans Are Cool, and PETA's Kid of the Year Award. She also worked with Farm Sanctuary to get Meatless Mondays passed. She is featured in Vegan: Everyday Stories, a documentary about the lives of everyday vegans and is starting her own non-profit foundation called Genesis for Animals where she will provide funding to people who rescue animals. Although she is active in the animal rights movement, she is still able to be a kid and loves playing football, singing, dancing, sewing, drawing, and spending time with her friends.
Length: 7 mins
Where to watch: It's available here on YouTube.
10. Okja
Angle: This movie is not particularly ABOUT veganism, but it makes you think about animal rights issues, therefore it makes my list.
Synopsis: For 10 idyllic years, young Mija has been caretaker and constant companion to Okja - a massive animal and an even bigger friend - at her home in the mountains of South Korea. But that changes when family-owned, multinational conglomerate Mirando Corporation takes Okja for themselves and transports her to New York, where an image-obsessed and self-promoting CEO has big plans for Mija's dearest friend. With no particular plan but single-minded in intent, Mija sets out on a rescue mission.
Length: 2 hr 1 mins
Where to watch: It's available on Netflix. Not sure if it's available anywhere else yet.
*All the images on this page save the first image were all pulled from a simple google search. I do not own those images.